SillySyd
Jul 14
[video]
May 27
[video]
May 24
New shop name, new listings.  Framed art prints from my 2014 sketchbook project are now available.  Buy 2 framed prints, get an unframed print FREE!
May 12
I'm not sure what they're worshipping or teaching their kids here…
Apr 20
The process of the cement German Shepherd garden statue restoration I did yesterday.
It originally looked something like this:

But has since faded after being outdoors for 19 years.
Luckily I was given permission to go more realistic.  I probably couldn't have done it without an airbrush or the many years of painting blank plastic figures/knick knacks that my Grandma would get for us to work on after school or during the summer.
PROCESS DETAILS:
(Both for me to remember in case I have to do this again, or for anyone who might want to know how to do this themselves.)
The statue was hosed with water (do not use soap or brush) and dusted with air hose prior to primer.  Only paints that indicated they were made for outdoor use were used.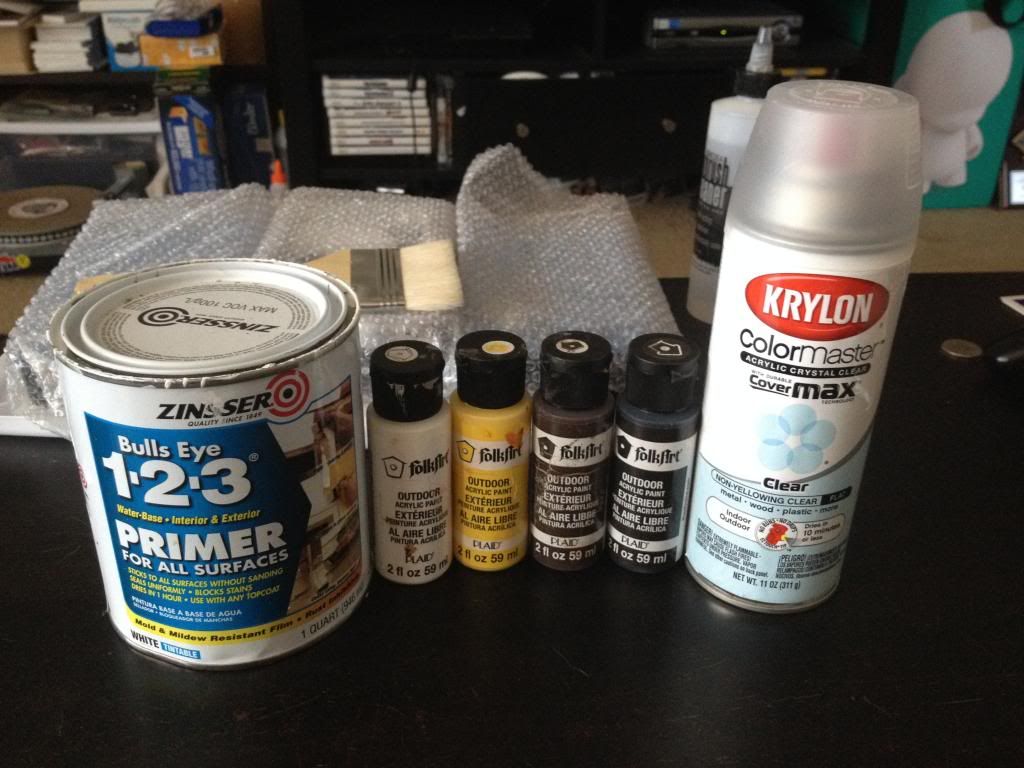 I bought the can of primer, though I would highly suggest finding a spray primer, especially if your statue has lots of deep carving details (like the hair in this one). Otherwise you'll need a brush with heavy duty [plastic] bristles to get into the deep groves.  I've learned that goat hair (or any kind of hair for that matter) brushes are useless for something like this.  If you use a canned primer, try not to let too much fill into the groves of the carving details, because once it's dried, you lose all of that dimension and the statue starts to look smoother.
I made most of the colors using only the 4 bottles of paint you see above, because there isn't much of a selection of the outdoor acrylic paints.  The only colors I used normal craft paint was the pink in the tongue and umber color in the eyes.  It would be good to have a subject reference print-out handy so you can color-match.
I used an airbrush to paint most of it.  It took a little tinkering, initially, since I'm still fairly new at airbrushing, let alone using outdoor paints with it.  I believe it ended up being a 50/50 ratio of paint to water….possibly a tad more water than paint.  Eventually you get to know what the right thickness/watery-ness looks like. It's always good to carry airbrush cleaner with you to clear up and prevent clogging while in between colors. It's also good to have several jars to keep your color mixtures in, in case you have to go back to a color you already used.
One good thing about airbrushing is that it leaves a thin coat of paint.  If you don't like a color, you can just paint over it without it being too globby.
For the details (tongue, eyes, teeth, nails), I used a normal paint brush to get into the tiny spaces.  I also used a regular brush to paint the base after the body was done.
After everything was done, I gave it a good coat of sealer and left it to dry outside overnight. Overall it took me 9 hours from primer to final seal. So plan your day accordingly.
I had fun doing this project as it was a first of its kind for me.  I had to do a little research to make sure I was using all of the right supplies so it would late outside for many more years.  It started off a little rocky since I had issues with the brushes I brought to use for the primer, and figuring out the mixture ratio for the airbrush, but eventually I got into my groove and at one point wanted to pet or hug the dog, once it started to have a face and coloring :D
Mar 17
Happy St. Patrick [Star] Day!
Mar 16
I'm feeling festive today. #stpatricksday #spongebob #patrick #patrickstar #drawing #sketch #wip #art
Jan 25
My 5x7 Sketchbook Prints are also available on Etsy (for those that are more familiar or already have an account with that site). $5 each!
Jan 24
[video]
Jan 22
[video]